"Against the Grain inspires me!" – Cody Crocker, international rally driver
Wednesday, 10 September 2014
I've managed to make a living driving cars all over the world as an international rally champion. Motorsport has always been in my blood and I have great memories of tearing up my family's property in Victoria when I was a teenager. I chased the thrill then, and to this day everything about my sport still excites me.
When I first met Jim Cairns, I could see immediately he had the same sense of adventure I had. You can see him light up when he's talking about smashing around in vehicles on his property, or what his next adventure is. He's always chasing the next opportunity to challenge himself and rev his engine (both literally and figuratively!). Jim's greater team, Against the Grain, has completed a number of adventures deemed tough for abled-bodied people, let alone a group of mates with disabilities.
Jim gets around in a wheelchair day-to-day as a paraplegic, but this has never stopped him from doing things that on the surface seem "too difficult" for someone with his disability. When he told me he was going to do the 2014 Australasian Safari as Against the Grain's next adventure, I knew he'd give it his all to finish that race.
The Safari is a 3500km grueling journey across Western Australia's rugged outback – it's not for the feint-hearted. Even for the able-bodied, finishing isn't guaranteed because the journey is just so tough on man and machine alike. The level of concentration that is required every day for the seven-day event, where teams navigate up to 500km a day, is far more than what I've ever encountered in rally driving. It's an exhausting, challenging drive and I admire Jim for committing to it fully. Not only is Jim the first paraplegic to compete in the side-by-side vehicle class, this is the same event during which he acquired the injuries that rendered him paraplegic 29 years ago.
Whether Jim finishes the race or not, though you can tell he'll do everything he can to get across the finish line, he's demonstrating that people with disabilities can be involved in mainstream sporting activities. It's an inspiring message for disabled or mentally ill people, and their families and carers alike, and I'm honoured to be an ambassador for Jim's efforts.
I urge you to get behind Jim and his mate and co-driver, Rex Baker, for this tremendously challenging event. It takes a few special modifications and extra considerations for disabled people to do these kind of things, so every bit of support for these guys is appreciated by their whole crew.
The Australasian Safari kicks off on September 20, with a public ceremonial start on Septmeber 19 at Wanneroo Showgrounds, and you can follow Jim and Rex's live progress at againstthegrain.com.au.
In the meantime, get behind them on Facebook and if you'd like to donate to support their preparations, you can do that here.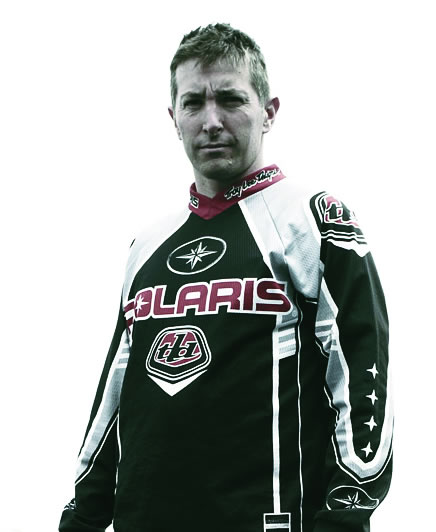 Cody Crocker is an Australian rally and racing car driver. Cody won seven titles between 2003 and 2009 and with 24 wins and four consecutive championships is the most successful driver in the history of the Asia-Pacific Rally Championship. He currently races a Polaris RZR XP1000 in the Australian Rally Championship and won both the 2012 and 2013 SxS series.