Participated in The Ride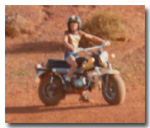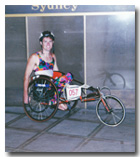 About Anton's Accident
On the 26th March 1989 Easter Sunday, myself and my girlfriend at the time and her two younger sister's, drove from Boulder to Ora Banda to meet up with her older brother and his mates who had been camped in the area for a few days. We looked all around the area, but could not find them anywhere.
I let my girlfriend drive the car, though she didn't have a driver's license. She lost control of the vehicle on the corrugated gravel road, the vehicle hit the windrow and flipped. I broke my back. The three girls were very lucky to not suffer any injuries.
Level of Injury
T12/L1 Paraplegic
Occupation before Accident
Promising Junior Golfer, Apprentice Boilermaker at Monodelphous Engineering Kalgoorlie.
Occupations after
Athlete (wheelchair road racer) Represented Australia in USA & Canada 1993.
Toured with a band "The Waifs" for approx five years as a form of Roady.
Have studied Jewellery Design and Manufacturing, won awards as a student.
Occupation now
Relations Manager PBF Australia and Injury Prevention Presenter.
Partner & Children
My partner's name is Kate we are currently trying to have children and are looking to marry in the future.
Current Hobbies
Fishing & Camping, Golf, Air rifle shooting and the odd Handcycle ride.
Keen interest in Jewellery making.
Other personal points of interest
I am very passionate about Road Safety & Injury Prevention especially in the area of young road users.